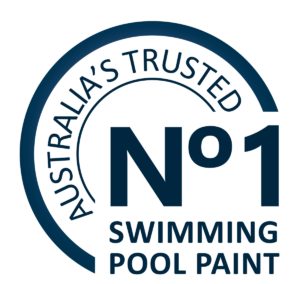 :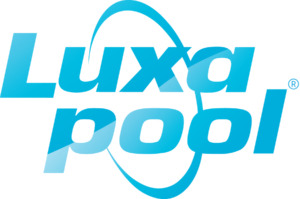 O U R   P R O D U C T S
Australia's No. 1 Trusted Swimming Pool Paint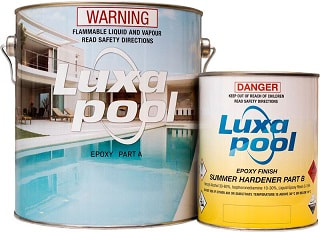 LUXAPOOL® Epoxy Pool Paint
​​​LUXAPOOL® (2-pack) Epoxy Pool Paints are excellent for all new swimming pool applications and can be used to give a beautiful luxury finish to older pools. LUXAPOOL® Epoxy Pool Paints are also well suited to application over old and new cement render, fibreglass, pebblecrete, marblesheen and also previously painted epoxies. Available in 1L and 4L sizes.
​
Coverage:  20 – 25m2 per 3.5lt kit / per coat
(minimum of 2 coats recommended)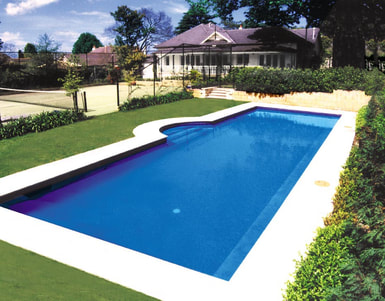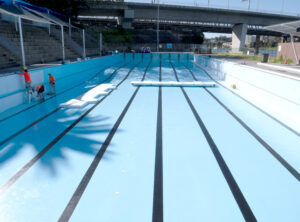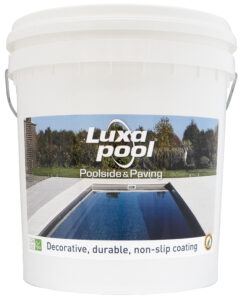 LUXAPOOL® Poolside & Paving
LUXAPOOL® Poolside & Paving is a water-based, rubberised, non-slip coating system that is easy to apply and provides a safe and durable decorative surface for most small pebble, concrete and paved areas. It may be easily varied during application to a range of non-slip effects.
Areas where LUXAPOOL® Poolside & Paving can be used include:
Pool surrounds
Decks and patios
Balconies
Boat decks, pontoons
Wharf and landing dock surfaces
Steps, stairs and walkways
Coverage: 
Surface type and texture affects the coverage rate. Generally, the recommended spreading rates are:
Horizontal Surfaces: 2m2/L /coat, minimum 2 coats, for 575 microns DFT.
Pebblecrete Surfaces: Calculate the initial coat @ 1 m2/L so as to fill the profile, and then as per above spreading rate.
Apply a minimum of two coats in all applications. Additional coats will provide extended durability, texturing effect and water resistance, especially on high traffic surfaces.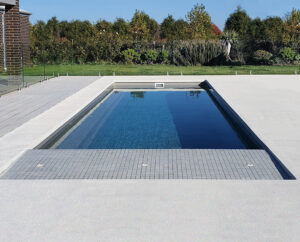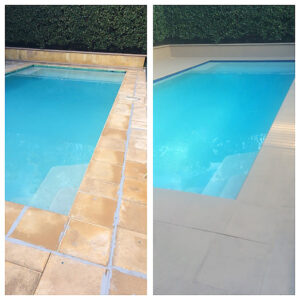 LUXAPOOL® has been the performance
benchmark in pool finishes for over 40 years.
WHY LUXAPOOL® EPOXY IS THE BEST VALUE POOL PAINTING SYSTEM:
LUXAPOOL® Epoxy delivers the most luxurious, longest lasting, smooth, hard, durable gloss finish which is resistant to abrasion and simple to maintain.
LUXAPOOL® Epoxy is a long lasting system. Two coats of LUXAPOOL® Epoxy, when properly applied, has a life expectancy of 8-10 years; 3 coats and you're looking at 12-15 years. So for the long haul, you'll spend less time, money and labour with repaints and more time enjoying the pool.
LUXAPOOL® Epoxy is available in a broad range of designer colours, so when you decide to change the décor of the house or pool surrounds, then you can change the colour of the pool interior to suit.
LUXAPOOL® Epoxy is versatile and can be applied over the widest range of substrates including cement render, marble sheen (quartzon), fibreglass, pebblecrete or previously painted epoxy.
LUXAPOOL® Epoxy is high in volume solids with more solids in every kit, so you get a thicker film in fewer coats. The thicker film means a longer service life; fewer coats means the job will be finished in fewer days.
LUXAPOOL® Epoxy is Australian, with Australian technology developed and fine-tuned over many years of laboratory research and a successful track record in the field of 45 years surfacing and resurfacing pools right across the country under the harsh Australian sun.
LUXAPOOL® Epoxy contributes to the hygiene of the pool, offering outstanding resistance to infestations of "black-spot" that can blight other surfaces.
LUXAPOOL® Epoxy has improved resistance to chalking, to the effects of salt-water and to chlorinated chemicals, is algae controlled and safe for use with fish and mammals. The high gloss finish retards early chalking and significantly increases the life expectancy of the coating.
LUXAPOOL® Epoxy's leading pool coating technology keeps water cooler in summer. This technology extends the life expectancy of the coating by reducing IR radiation absorption, thus reducing evaporation and helping to save water. Cooler water also slows chemical burn off, particularly in summer, so lower doses last longer.
LUXAPOOL® Epoxy has great application properties, making it a breeze to apply with brush and roller plus excellent flow and levelling properties that yield a smooth, glossy finish.
LUXAPOOL® Epoxy can be applied by expert pool paint Applicators or by DIY renovators following our industry leading LUXAPOOL® Application Guides.
LUXAPOOL® Epoxy is available online, or from an established stockist in every state and territory capital, so you can get great advice from an experienced local who knows our product and your climate.
TESTIMONIALS
Happy Customers
These guys really know their stuff. I wanted to paint the pool myself, and they provided me with all the paint and rollers I needed plus an easy to follow step-by-step guide on exactly what I needed to do. The results were excellent and now my pool looks like new, and I did all this for under $1400!

James Grey, Ipswich
Visit our QLD Stockists or Buy LUXAPOOL Online